| | | |
| --- | --- | --- |
| | | |
Welcome to the Painted Canvas homepage.
Well the New Site I been promising has been temporarily halted. My Hard drive crashed, and so for I have not been able to recover anything, which means I will have to start over. When they say backup they mean it. If anyone is good at recovering crashed HD's drop me a line.
Coming soon a whole new look for this site. So stay tuned.
This page was created Sept, 98. Since that time I have been trying to improve this site as often as I can. Creating CG (Computer Graphic) Art and Web pages can be somewhat time consuming. With that in mind , Bookmark this page as updates will be often. If your not using Netscape or Explorer 4.0 make sure to hit reload when visiting this site, or you may be viewing an outdated page. I would recommend getting the latest browser. On this site you will find art created in 2D and 3D software. I have also created some tutorials for various CG Art programs. As time permits I will be adding Bullets, Banners, Buttons, and other clipart.
Special thanks to Tom Thompson for his contributions. See some of his Artwork on my 2D page.
All the art on this site is original, and created by me or one of my friends. You are welcome to use anything here as long as you do not take credit for the work, or use it for commercial purposes. Copyright Sept, 1998
Last Update 17 Oct, 98
Recent updates include: I just added the Links page. From there you can find sites with clipart, how-to's, and tutorials.
For Great savings on books about art, or anything else.
Be sure to visit the Bookstore.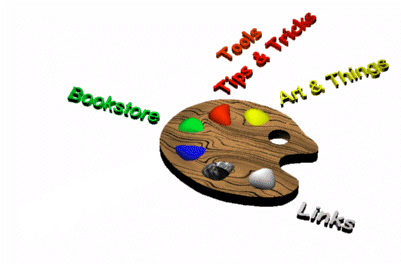 Visitors have been here.
Art & Things Tips & Tricks Bookstore Links